Reading News for You: - ISIS ANNOUNCED ITS FIGHTER KILLED A FRENCH POLICE OFFICER ON CHAMPS-ELYSÉES IN PARIS
Thursday, April 20, 2017
VietPress USA
(April 20th, 2017):
ISIS announced that its ISIS Fighter killed a French Police on

Champs-Elysees, Please read this hot news from CNN:
Source:
http://www.cnn.com/2017/04/20/europe/champs-elyses-in-paris-closed/index.html
VietPress USA
www.vietpressusa.com
oOo
Paris gunman who killed police officer known to security forces, source says
By Paul Cruickshank, Ralph Ellis and Jim Bittermann, CNN
Updated 9:35 PM ET, Thu April 20, 2017
Paris (CNN)A man who killed a police officer on the Champs-Elysees Thursday night was known to French security services for radical Islamist activities and had shot and wounded an officer in the past, a source close to the investigation told CNN.
The suspect, who was shot dead by French police, was the subject of a "Fiche S" surveillance file and was on the radar of the French domestic security service DGSI, the source said.
The man was a French national who shot two officers in 2001 after being stopped by a police car, the source said. He was taken into custody but while being questioned grabbed another officer's gun and shot him three times, the source said. He was convicted in that attack and had a criminal record because of involvement in violent robberies, the source said.
The source said French investigators now believe this was in all likelihood a terrorist attack. They believe there was just one attacker, and the danger is likely over, the source said.
ISIS issued a statement saying an Islamic State "fighter" carried out the attack. The ISIS claim comes via a statement released by the group's media wing, Amaq. The ISIS statement identified the attacker and called him "the Belgian." CNN has not confirmed the attacker's association with Belgium.
Paris Prosecutor Francois Molins said he will reveal the shooter's identity on Friday at a news conference. He said officers are searching the man's residence in Chelles, Seine-et-Marne, a Paris suburb, and are trying to determine if he had accomplices.
The shooting has not officially been declared a terrorist act but anti-terrorist forces are leading the investigation, French President Francois Hollande said.
"The people who were present have been evacuated and we are convinced that the leads which point us to this case, and which will allow us to uncover the truth, are of a terrorist nature," he said.
The shooting happened about 9 p.m. local time (3 p.m. ET) when a car stopped at 102 Champs-Elysees in front of a police van, Interior Ministry spokesman Pierre Henry Brandet said.
A man emerged from the car and opened fire on the van with an "automatic weapon," killing one officer instantly, he said. The man "then ran away, managing to shoot and wound two other policemen. Other policemen engaged and shot and killed the attacker," Brandet said.
The slain officer was 30 years old, Molin said. One of the wounded officers was critically injured but is improving, he said. Also wounded was a female tourist.
The shooting shut down the famed Champs-Elysees, one of Paris' top tourist attractions and home to the iconic Arc de Triomphe monument. The avenue was clear of residents and tourists but teeming with security officers Thursday night.
It comes three days before French voters start elections for a new president. Candidates went ahead with a debate Thursday night.
France has been in a state of emergency since the 2015 Paris attacks, which left 130 people dead. Parliament voted in December to extend the extraordinary provisions to ensure the protection of upcoming presidential and general elections.
Security has been tight because of the vote. Just two days ago French authorities
arrested two men in Marseille
who were allegedly planning an attack in a run-up to the election.
At least three underground train stations of the Paris Metro -- the Champs-Elysees-Clemenceau, George V and F. Roosevelt stations -- have been "closed off" near the site of the police operation on the Champs-Elysees in Paris, BFMTV reported.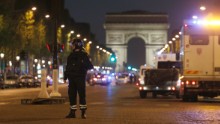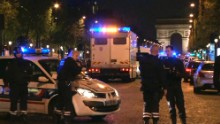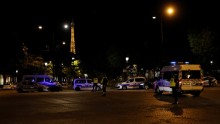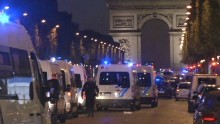 VietPress USA
www.Vietpressusa.us
Mục Bài Viết:
BREAKING NEWS
,
Europe
,
Front Page